Vietnam is a great place to travel and gives tourists a memorable experience. But if you are someone who loves bringing back little pieces of the place you visited into your homes, Vietnam does not disappoint you! You can buy artistic souvenirs as well as exotic food items and produce to reminisce your trip to Vietnam long after you come back home.
1. Ao Dai

Ao Dai is one of the few traditional costumes of Vietnam that has stood the test of time. Today, most of the Vietnamese wear western clothes, but the Ao Dai is worn on special occasions. Some schools and workplaces also have Ao Dai as their formal uniform. It is an elegant clothing with a long flowy tight fitting top with stylish pants suitable for women of all ages. It has now become the symbol of Vietnamese culture.
The Ao Dai can be bought from stores ready-to-wear or you can choose to get a custom made Ao Dai by buying your own cloth and availing the 24 hour tailoring services. The former is however a less expensive option. You can buy an Ao Dai in any of the important cities: Hoi An, Ho Chi Minh City, Hue or Hanoi. An Ao Dai can cost anything between VND 500,000 and VND 2,000,000.
2. Vietnamese Silk

Silk was once regarded as a luxury and only the elites such as the royal family and the nobles wore silk. In fact, the Ao Dai is traditionally made in silk. However, vietnamese silk which has a name for itself in the international market along with Chinese and Indian silks is now used to make various designer clothing that are showcased in famous fashion shows.
Silk is best bought in traditional villages where it is still woven on conventional handlooms. Some great places to buy silk in Vietnam are the Van Phuc silk village in Hanoi and Hang Gai Street in the city's old quarter. Some of these stores also sell scarves and bags made of silk along with the plain fabric. The cost of Vietnamese silk is around VND 150,000 per metre of the fabric.
3. Non La

The conical hats which were originally used by Vietnamese farmers have now become the symbol of Vietnam and is an ideal souvenir to bring back home. It is usually made from palm leaves, bamboo cataphylls or straws and is available in various designs and sizes. Finding your fit is hence very easy. Non La can be bought in almost all souvenir shops across the country but is best bought in villages like Chuong (Hanoi), Phu Cam and Tay Ho (Hue).
Non La can be bought at prices as cheap as VND 10,000 to VND 50,000.
4. Hand Embroidery

The talented artisans in Vietnam roll out one of the best embroidery art. Hand embroidered quilts, pillowcases, besheets, tablecloths, bags and purses, nightdresses and scarves are a few products you can buy. Hanoi offers a variety of products of great quality differing in designs and sizes at reasonable prices. Sapa valley is also a great place to buy hand embroidered products where you can also see the craftsmen at work. The best embroidery iis found on products made of linen or cotton
The prices depend on the kind of product you are buying but they usually range from VND 50,000 to VND 1,000,000.
5. Bamboo and Wooden products

Handmade and colourful, these souvenirs are also eco-friendly and are found in almost every tourist site in Vietnam. The common bamboo products are hats, bowls, baskets and decorative ornaments. One of the popular showpieces are the bamboo dragonflies which can stand on their mouths. Chopsticks and furniture made of bamboo are also sold. Similar items made of timber are also sold at extremely low prices.
The prices of bamboo items are dependent on the kind of products you wish to buy.
6. Pottery

Traditionally hand-crafted ceramicware is something that Vietnam is famous for. One can lay their hands on beautiful ceramic pots, bowls, dishes and vases of colourful patterns. Although they are available in the whole country, the best places give you an experience of watching the potters mould these pretty pieces from literal dust. You should visit villages such as the Bat Trang (Hanoi), Phuoc Tich (Hue) and Thanh Ha (Hoi An) for fine quality ceramic goods.
The ceramicware is very fragile. The prices for these products are usually reasonable but they might be expensive if they are of high quality. Vietnamese pottery can cost anything between VND 20,000 and VND 10,000,000.
7. Vietnamese paintings

The paintings in Vietnam are unique due to their colour and technique. A variety of paintings are sold depicting the everyday life of the common people with different materials such as silk, sand, oil, etc. The silk paintings are popular all over the world due to their distinctive characteristics and french influence. Wooden block paintings are also another art form unique to Vietnam.
Paintings are slightly more expensive than other souvenirs but are nevertheless worth collecting. Vietnamese paintings are a great way to decorate your home for their bright colours and simple subjects. Prices range from VND 250,000 to VND 1,500,000.
8. Lacquerware

Lacquer is another art form which is unique to Vietnam. It involves a painstaking 100 days and 20 phases to produce one good quality lacquerware product and the number of hours the craftsmen of Vietnam put in is clearly seen in the artefacts. Various lacquer products include jewellery boxes, photo albums, dishes, bowls and vases in myriad designs and colours.
The best lacquerware products can be bought at any of the popular cities of Vietnam. Prices start from VND 180,000 and can reach upto VND 1,500,000.
9. Calligraphy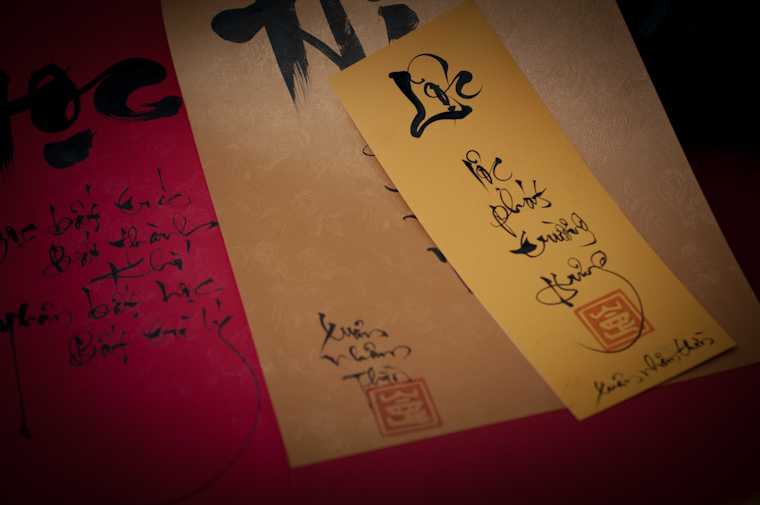 Vietnamese calligraphy plays an important role in its long standing culture. This art form is practised in three different scripts. Modern calligraphy is however done only in the Quoc Ngu script. All households and workspaces have a calligraphy hung up on their walls since they are considered as good luck signs. Calligraphy hangings are especially bought during the Lunar New Year (Tet) holiday.
Hue and Hanoi are the best places to buy calligraphy and the prices range between VND 200,000 and VND 500,000.
10. Lanterns

When the vietnamese celebrate a whole lantern festival, one can imagine how important lanterns are to the vietnamese culture. Hoi An is especially famous for vietnamese lanterns. They are available in different colours and shapes and are usually made of brocade or silk. The fabric lanterns are mostly used as decorations whereas those made of rattan are used in households along with lamps to light up the house.
The best place to buy lanterns is in Hoi An and can be bought at around VND 10,000 to VND 200,000.
11. Dried fruit (O mai)

A specialty of Hanoi, dried fruits here are not only a healthy snack option, but also a gift given on special occasions to be savored with a cup of piping hot lotus tea. Fruits such as apricots, plums, kumquats, mangoes and peaches are sweetened or salted, dried and mixed with spices to give it a lip-smacking taste. The most popular O mai brands are Hong Lam and Tien Thinh.
The prices of the O mai varies according to brands and fruits but they usually are between VND 40,000 and VND 150,000 per box.
12. Fish Sauce

If you feel like cooking up a vietnamese dish at home after you finish your Vietnam trip, you might want to take home a bottle of authentic fish sauce with you. Fish sauce is made from fermenting salted fish and is a staple in Vietnamese cuisine. The best quality fish sauce can be bought from Phu Quoc Island and is a bit more expensive than other fish sauce brands.
A 650 ml bottle of fish sauce can cost anything between VND 150,000 and VND 180,000.
Do let us know in the comments, if we have missed any other souvenirs to be treasured from Vietnam!