Dolphins are one of the most intelligent aquatic mammals that are found in our world. There are several species of dolphins that reside in
India
. There are several spots around India where you can come across this friendly animal.
To help you find them, here is a list of some of the places where you can spot dolphins in India:
1. Vikramashila Dolphin Gangetic Sanctuary, Bihar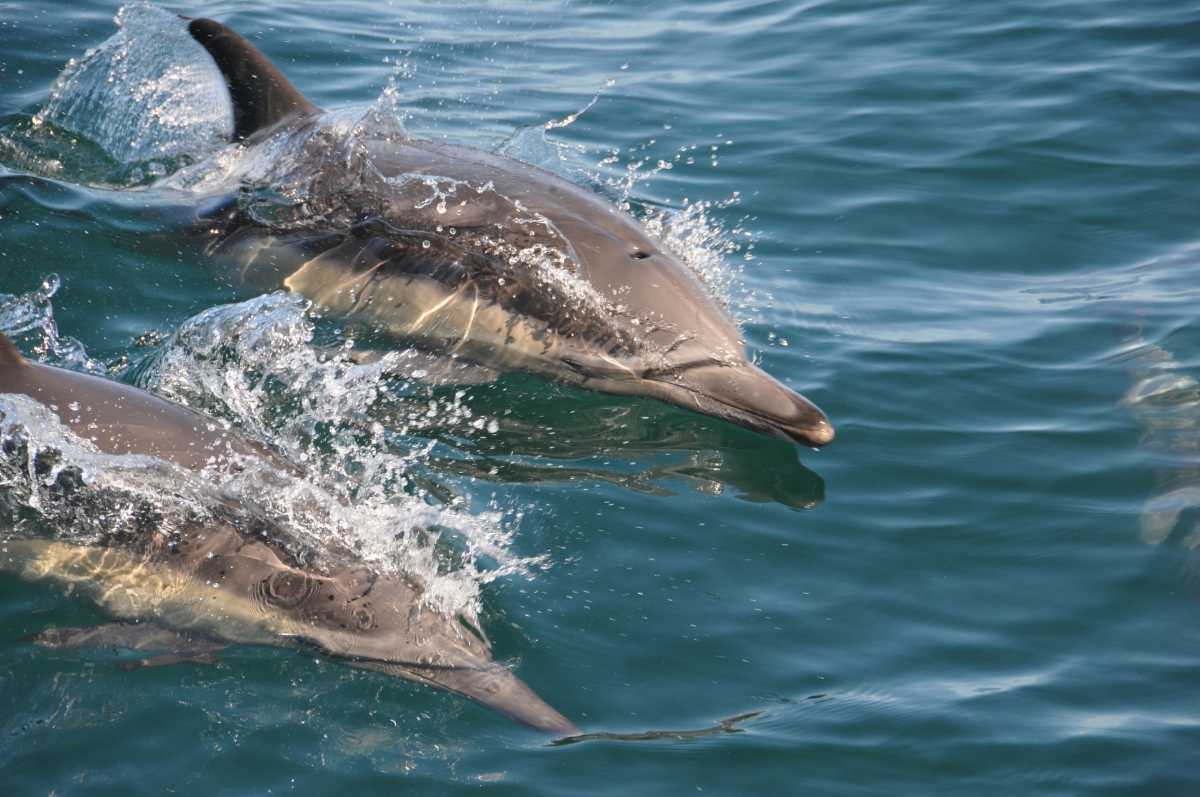 Gangetic Dolphins are an endangered species that are facing the threat of extinction. The Vikramashila Dolphin Gangetic Sanctuary in
Bhagalpur
district of Bihar is one of the only places where these dolphins stay protected. Only a few hundred of them live in this sanctuary which stretches over 60 Kms. Barari Ghat is the best place for spotting the dolphins.
Address: Bhagalpur, Bihar

Best Time to Visit: October to June
2. National Chambal Sanctuary, Uttar Pradesh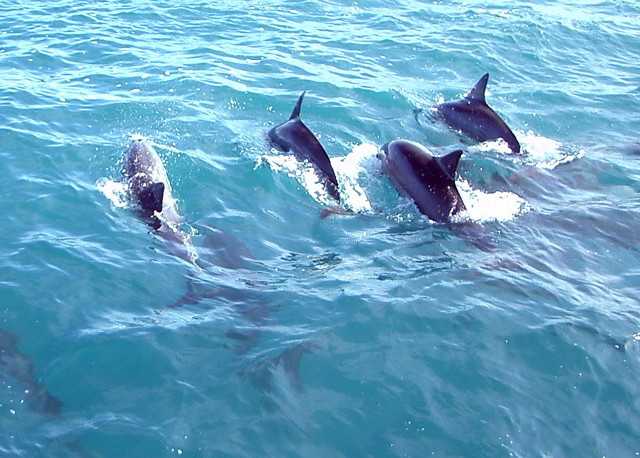 The National Chambal Sanctuary is typically known for its Gharial population but it is also home to the Ganges Dolphin which is in an endangered state. It is a scenic site where you can spot other seemingly endangered animals as well as numerous species of birds. More than 320 species of birds call this sanctuary their home. There are boat hiring points on the Chambal river, which takes the tourists to spot the Gharials and the Gangetic dolphins quite closely.
Address: Kheda Azab Singh, Uttar Pradesh

Best Time to Visit: October to March

Timings: 9:00 AM to 06:00 PM
3. Dibru Saikhowa National Park, Assam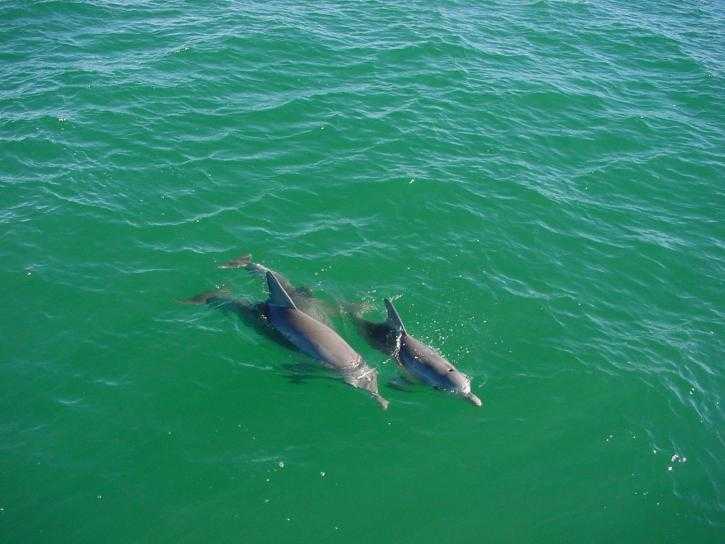 The Dibru Saikhowa National Park is a place in Assam where you can spot freshwater Gangetic Dolphins. The national park is located in the
Dibrugarh
and
Tinsukia
district of Assam. This place is bounded by three rivers, Brahmaputra, Lohit and Dibru. As it is a Biosphere reserve, it is a nice place to experience both the flora and the fauna. One can usually see the dolphins in the flood plains of the
Brahmaputra river
. A rare sight that one may get is of the Pink River Dolphins found in the Brahmaputra river.
Address: Laika Gaon, Assam

Best Time to Visit: November to April

Timings: 9:00 AM to 05:00 PM; Remains closed on Mondays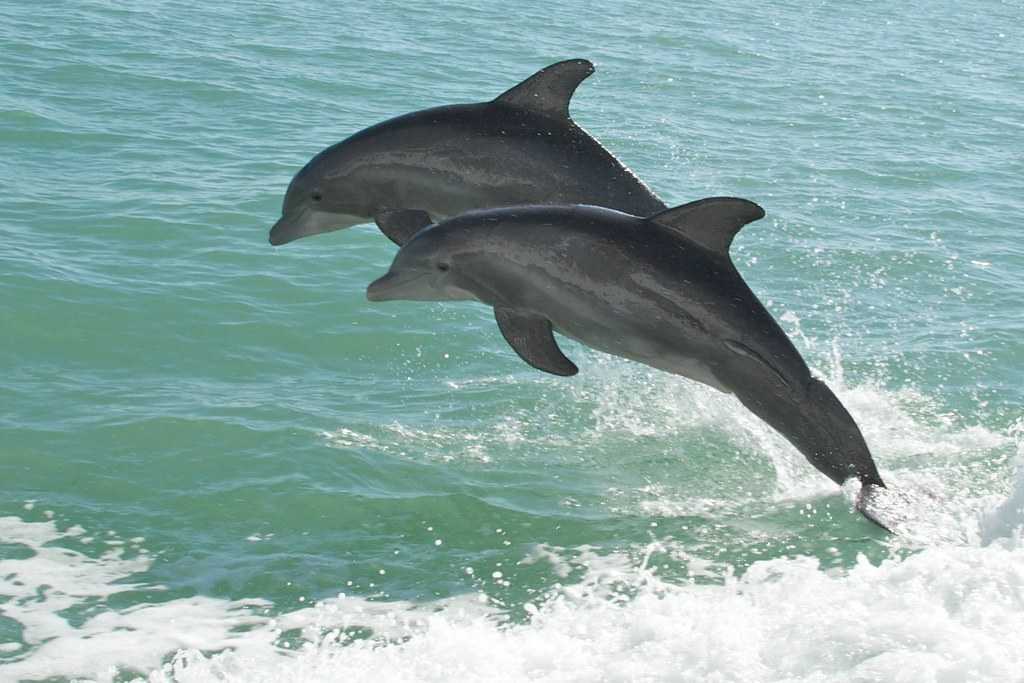 Goa is a beautiful state present in India which is mostly known for its beaches.
Along
with that it also serves as the home for beautiful ocean dolphins. There are several beaches in Goa like the
Sinquerim beach
,
Morjim Beach
,
Cavelossim Beach
and
Coco Beach
. The best way to spot Dolphins in Goa is by taking a cruise which takes a visitor in the Arabian Sea. It is best to hit the seas in the morning if someone is interested in dolphin show in nature.
Address: Sinquerim, Aguada Fort Area, Candolim

Best Time to Visit: Throughout the year

Timings: 8:00 AM to 06:00 PM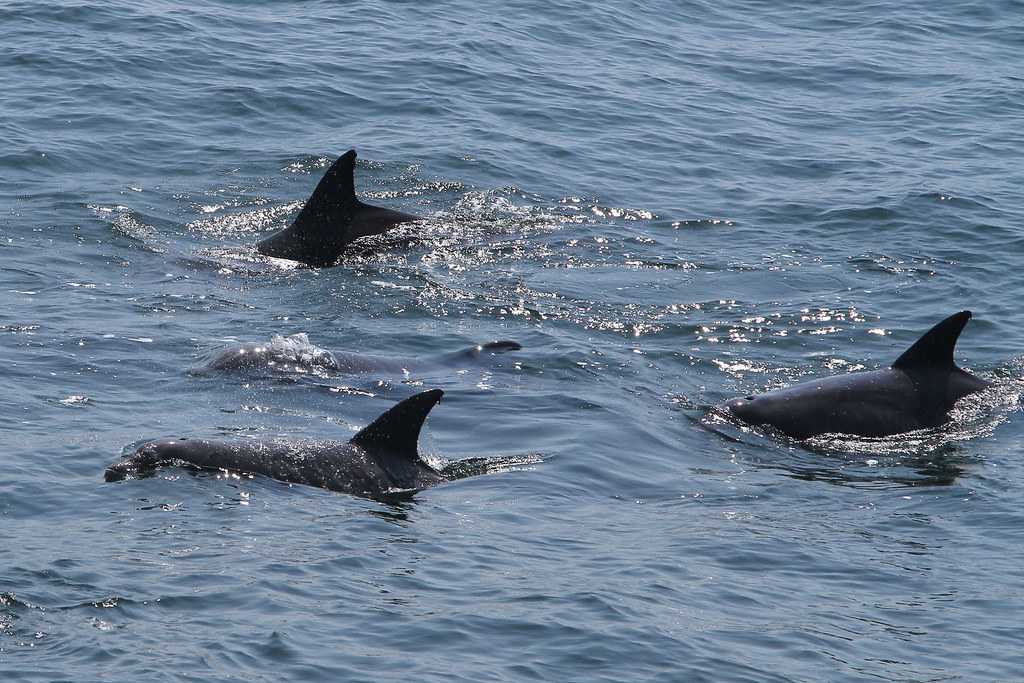 This is yet another coastal state in India and it is obvious that people will be able to spot several marine animals when they are in Maharashtra. Dapoli is situated about 227 KM south of Bombay and it is best for spotting the dolphins. The place has several spots such as the
Murud Beach
, the Kuravde Beach, Dabhol Port and
Harihareshwar
which are perfect for catching a sight of the dolphins. Visitors can enjoy Dolphin safari when they are in Dapoli.
Best Time to Visit: November to February

Timings: Preferably in the morning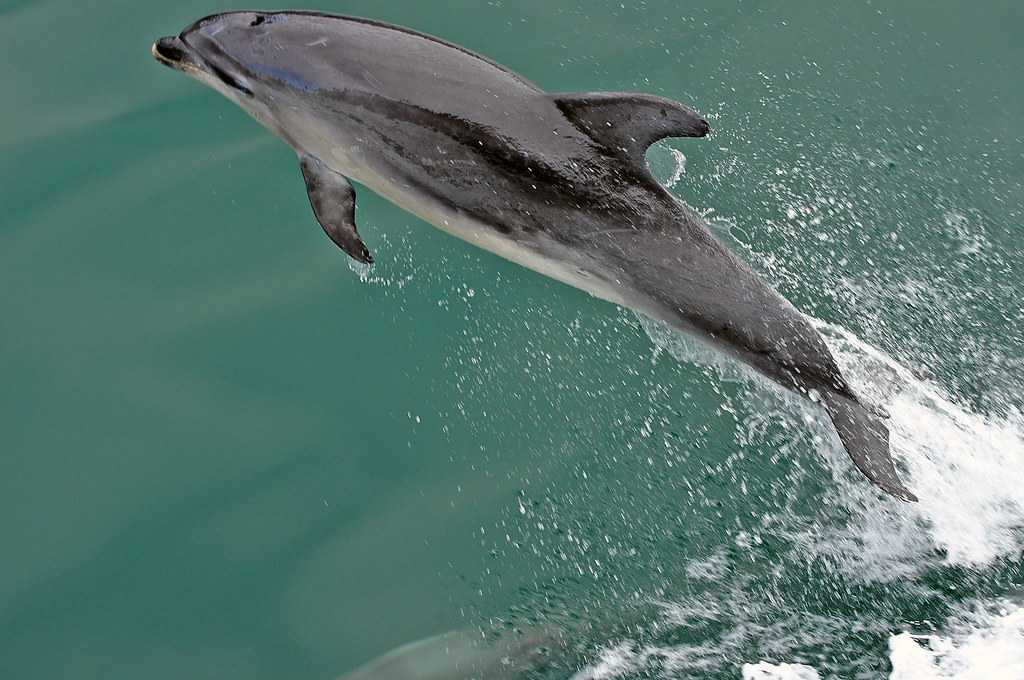 Chilika Lake is a brackish water lagoon present in the state of Odisha and it serves as a home to many Irrawaddy Dolphins. Visitors have to take a boat ride to explore the lagoon and the guides often spot out the dolphins. Apart from the dolphins, Chilika lake also has a diverse ecosystem made of several different animals. During the boat rides people also stop at the different islands.
Address: Chilika Lake, Odisha

Best Time to Visit: November to February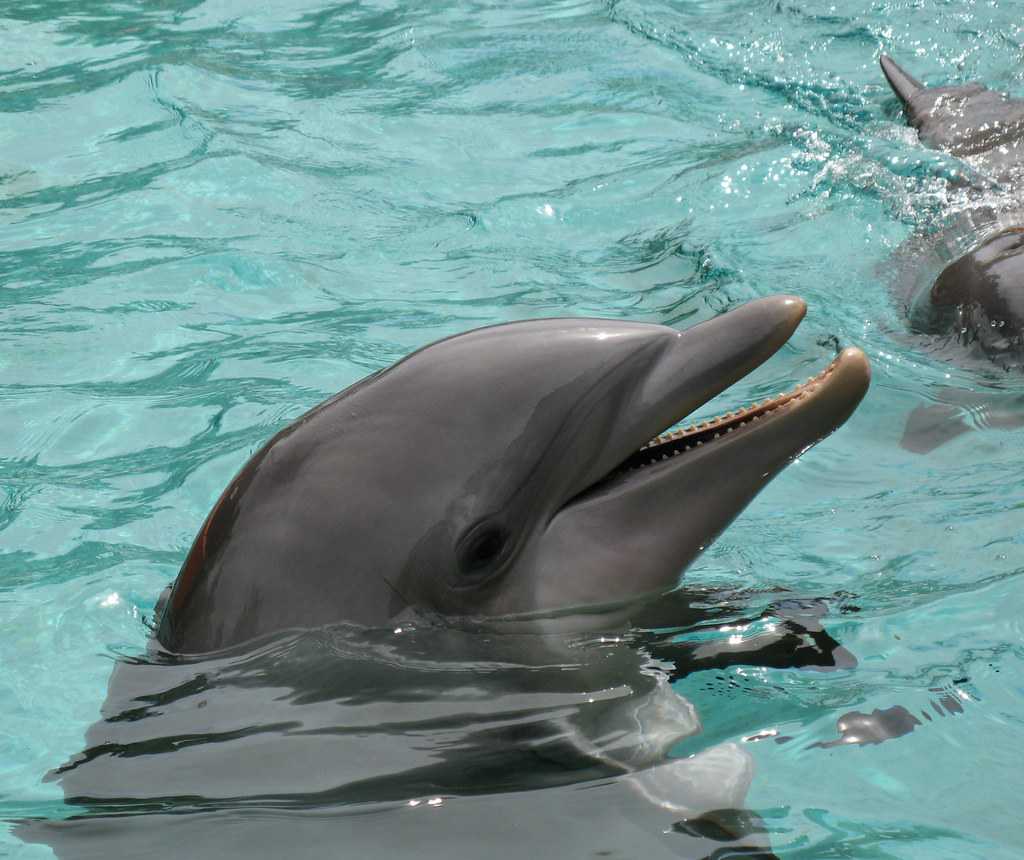 Lakshadweep is an archipelago situated in the southwestern coast of India. The group of islands are mainly known for its extensive flora and fauna. Over the years it has been turned into a tourist destination. Lakshadweep is a place where people can spot Bottlenose Dolphins on safaris. Apart from that people can enjoy water sports such as scuba diving, snorkelling, canoeing, etc.
Address: Lakshadweep


Best Time to Visit: October to mid May
8. North Button Island National Park, Andaman and Nicobar Islands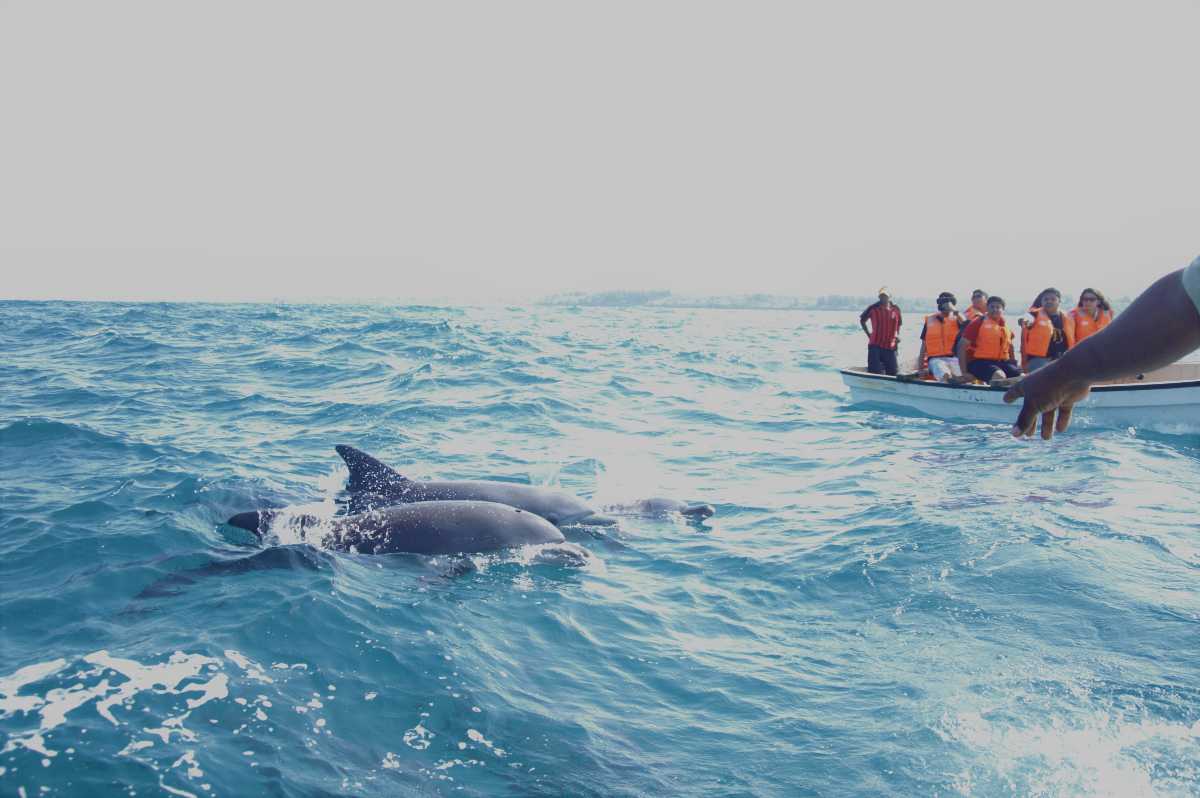 This is a national park in India which is situated in the Andaman and Nicobar island and it is mainly known for the spotting of dugong as well as dolphins. In Andaman, tourists can get close to the ocean and experience the different animals that call it their home. In Andaman, one may also get to see dolphins when they visit the Havelock island.
Address: North Button Island, North Andaman Island

Best Time to Visit: November to May
9. Sundarbans National Park, West Bengal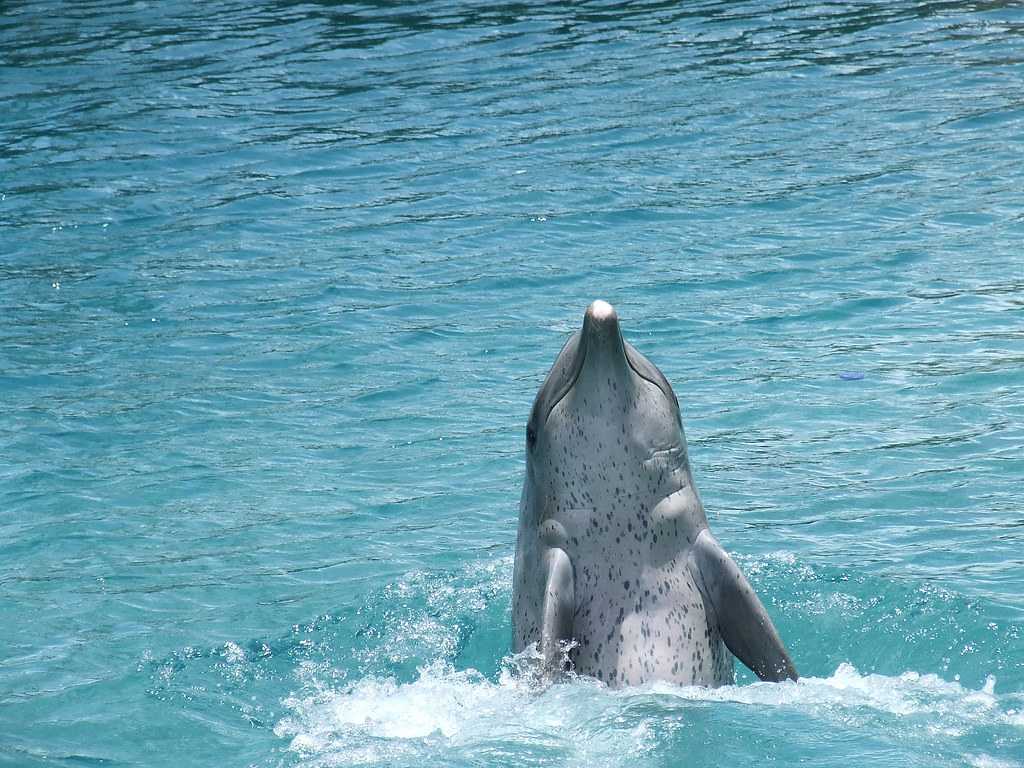 Sundarbans is a marshy area which is situated in the Ganges Delta. People have mainly known it as being the home for Royal Bengal Tigers. Yet it is also home to several different species of animals which include the Irrawaddy Dolphins as well as the Gangetic Dolphins. It is a UNESCO World Heritage Site as well as a Ramsar Wetland. River cruises are quite common in the area and the guides are helpful.
Best Time to Visit: September to March

Timings: 8:30 AM to 04:00 PM
10. Gulf of Mannar Marine National Park, Tamil Nadu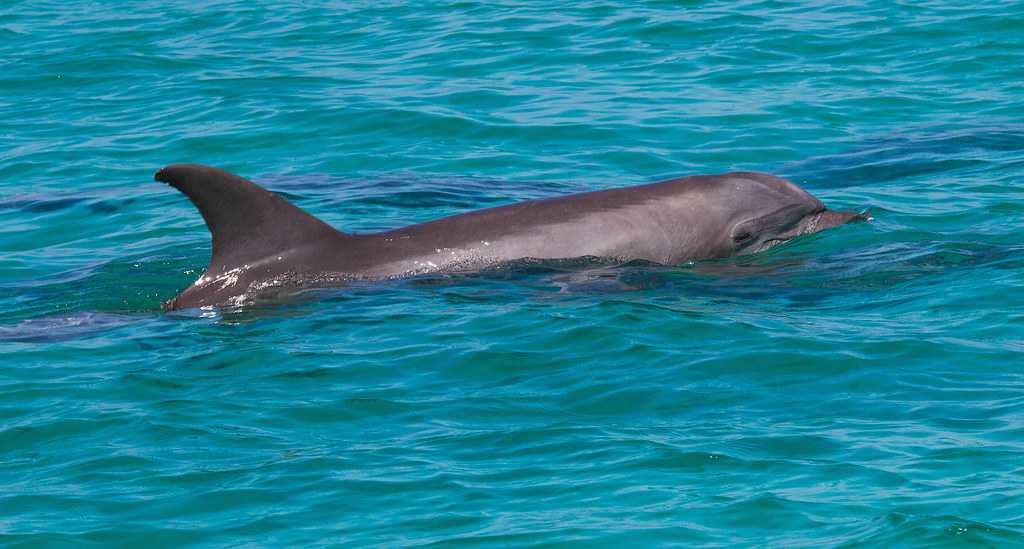 This is a national park consisting of 21 islets and it is situated just by the coral reefs present in the Gulf of Mannar. So, one can understand that it is dense in marine flora and fauna. Visitors who are going to this place can spot Spinner dolphins. They can avail glass-bottomed boats which will provide them with a nice view of the ocean.
Address: Ramanathapuram, Tamil Nadu

Best Time to Visit: 9:30 AM to 12:30 PM and 01:30 PM to 17:30 PM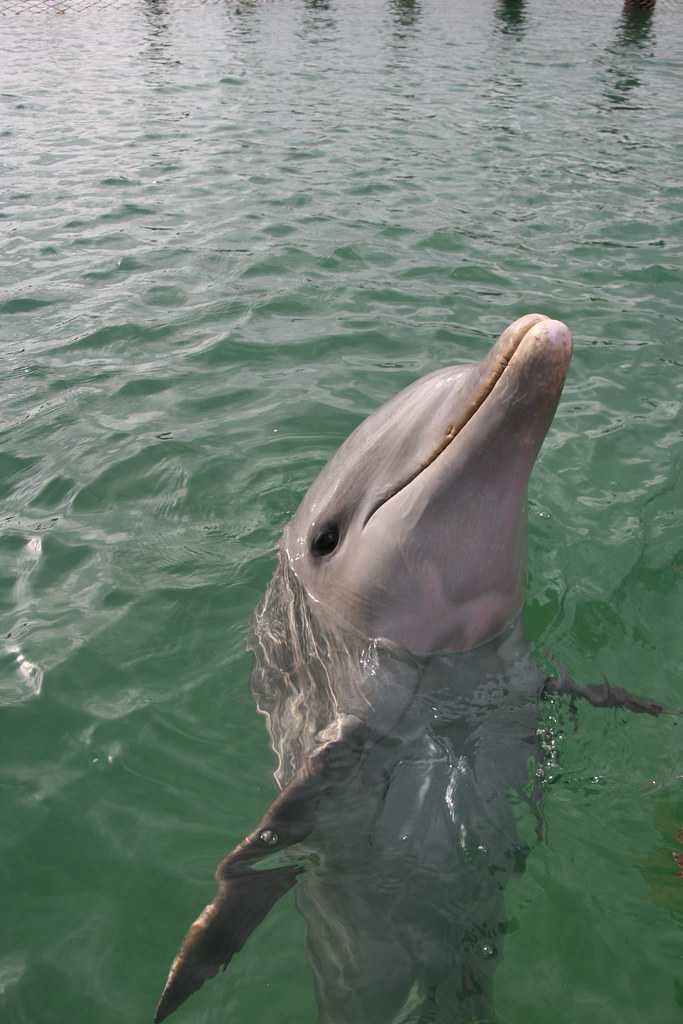 Kerala is a phenomenal state of India which has always been known for its beautiful backwaters. If a person takes a boat from the Cherai beach, then they will be able to spot some humpback dolphins along their way. Along with that, they will also get to see different species of birds and fishes who are a part of the local habitat.
Address

: Cherai Beach, Vypin,

Kochi

, Kerala

Best Time to Visit: October to March

Timings: 9:00 AM – 06:00 PM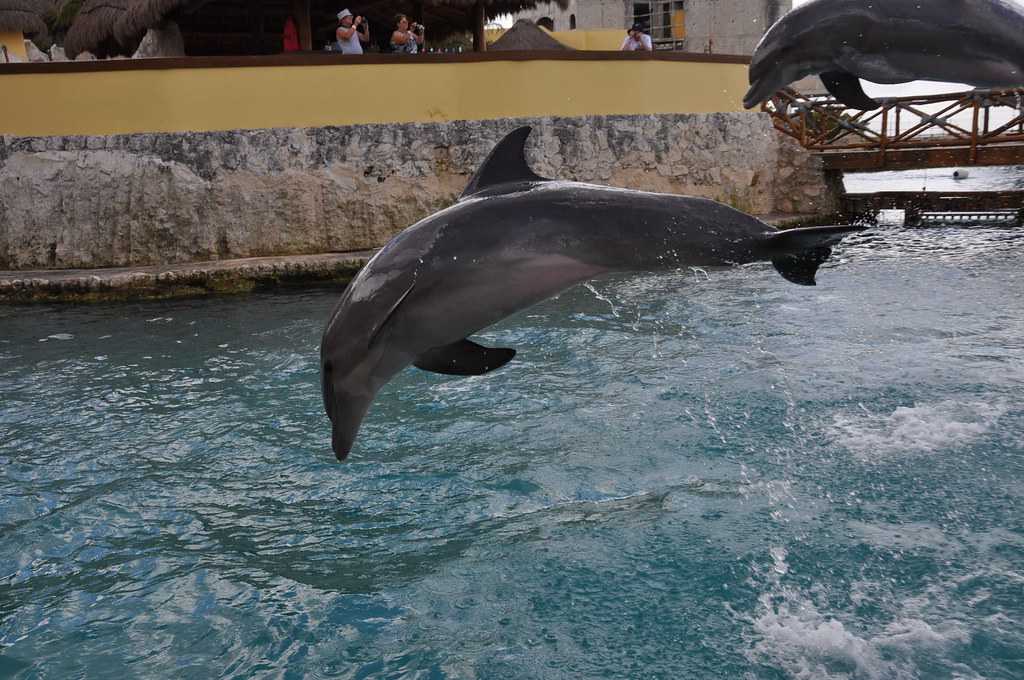 Karnataka is a southern state of India which is known for its coastal beaches. Along with several other marine animals, the Om beach is especially known for spotting humpback dolphins. There are regular boat services that take the visitors into the ocean to give them a nice view of the marine life present in the Arabian sea. Apart from that visitors can leisurely spend a day on the pristine Om beach.
Address: Om Beach, Gokarn, Karnataka

Best Time to Visit: October until March

Timings: No particular timings
13. Gulf of Kutch Marine National Park, Gujarat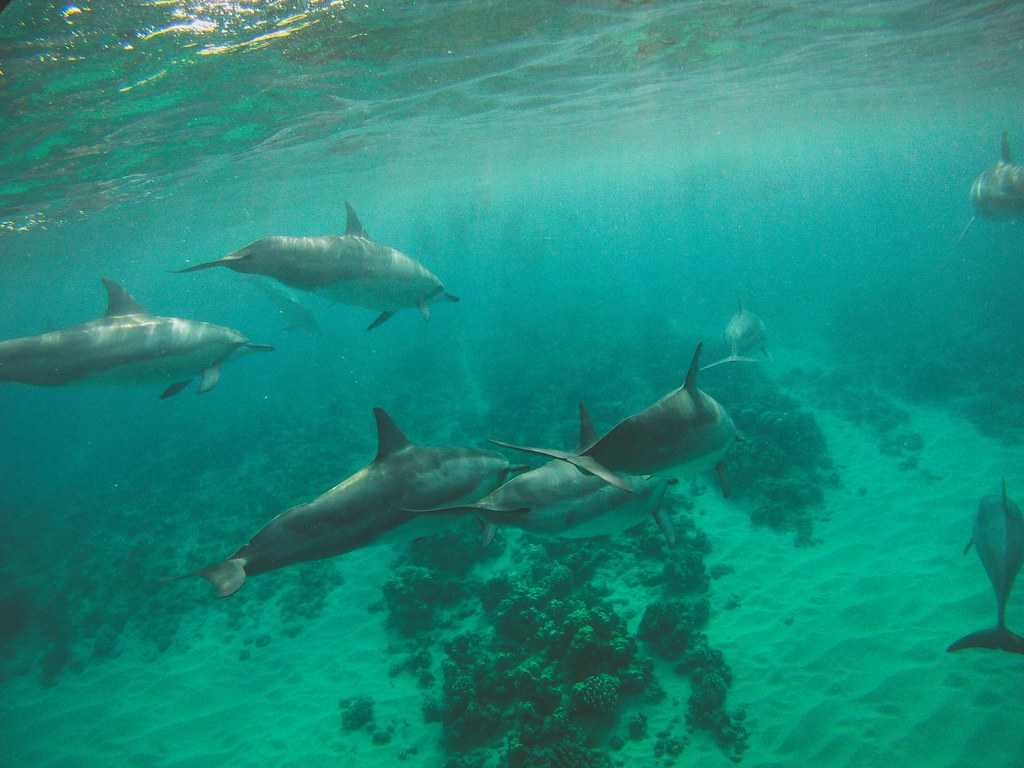 In this marine national park, there are a tonne of species which one can experience. There are a number of marine mammals including different types of dolphins as well as whales. As it is a fragile ecosystem, the researchers are constantly trying to improve its health. Tourists can spot the different dolphins which include common dolphins, bottlenose dolphins and Indo-Pacific humpback dolphins. One can even spot the greater Flamingo colony which is seen in this region.
Address: Jamnagar, Gulf of Kutch

Best Time to Visit: End of October to end of February
14. Harike Wildlife Sanctuary, Punjab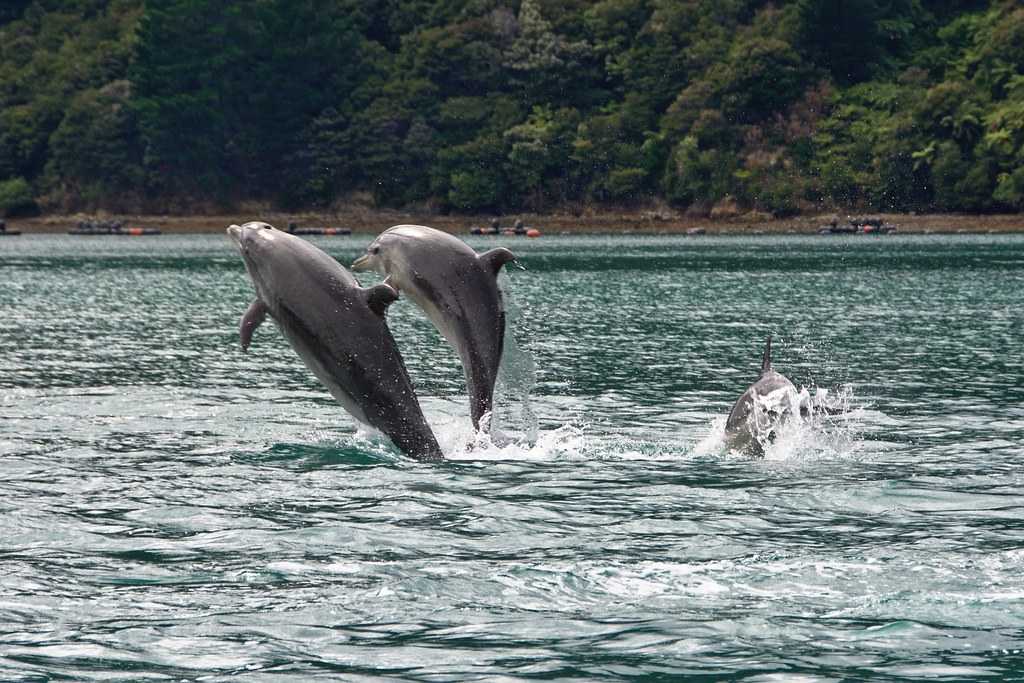 The Harike Wetland has been a popular place to spot birds, but it also has a population of dolphins that the visitors can spot. It is situated in the downstream confluence of the Beas and the Sutlej river. The Indus dolphins are mostly spotted in the Beas river which was formerly thought to be extinct in the area.
Address: Harike Wetland, Jakopur Khurd, Punjab 144629

Best Time to Visit: October to February

Timings: 8:00 AM - 06:00 PM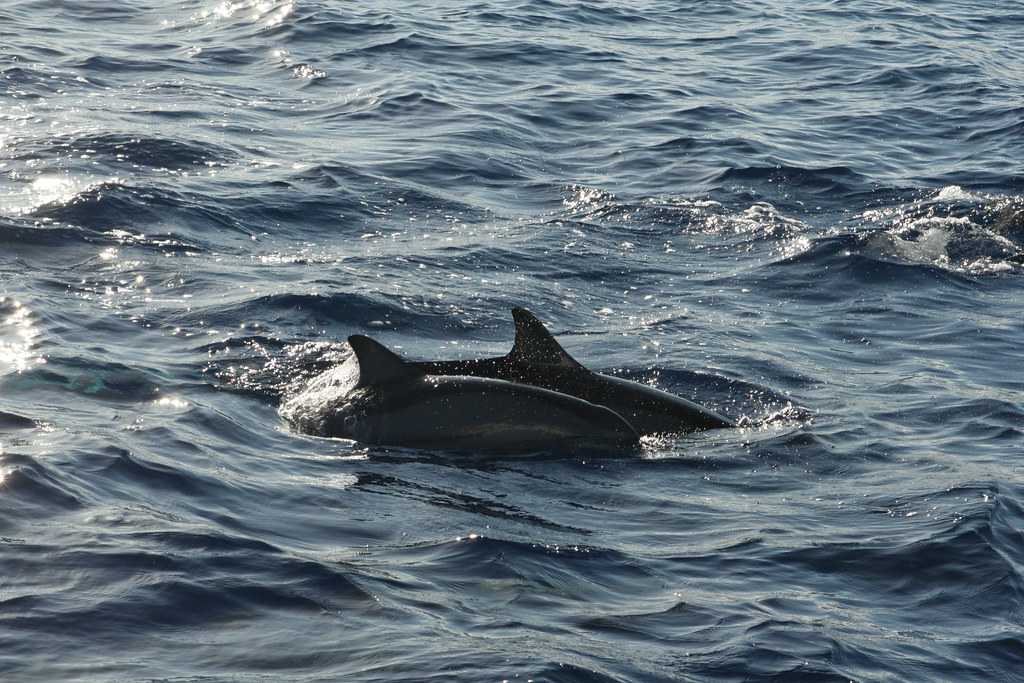 Diu is a town present in
Daman
and Diu which is a Union Territory of India. As it is situated by the ocean, dolphins are sometimes spotted in the nearby area. Some of the popular places for spotting Dolphins include the
Dunny point
as well as the island of Beyt Dwarka.
Best Time to Visit: August to October
So here is a list of places to spot Dolphins in India. They are really nice places with diverse wildlife and they will regularly pull those visitors who want to experience nature in its true form.